Flushy The Toilet Monster was given life by artist Skid Lo. Flushy is a celeb toilet originally from Butte, Montana. He is best known for being the toilet on the popular television series Prison Break. He currently resides in Los Angeles with his wife Flushette.
Is the toilet when you haft to go to the bathroom.
when you go pee or poo.remember to flush.and then wash your hands.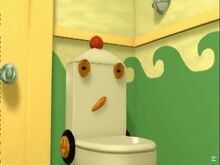 Ad blocker interference detected!
Wikia is a free-to-use site that makes money from advertising. We have a modified experience for viewers using ad blockers

Wikia is not accessible if you've made further modifications. Remove the custom ad blocker rule(s) and the page will load as expected.