Is ketchup and mustard appear in episodes like mom's night out and rolie polie olie's mansion s2 episode 13,
he only appear in fanmade episodes like,
luigi's milkshake
Black yoshi's breakfast (going with black yoshi and ren)
Rolie polie olie's mansion episode 6 (cameo as a mustard packet)
Toy ren's kitchen disaster (cameo)
Black yoshi's cheeseburger (cameo on mustard and ketchup without cameo)
Black yoshi's Easter egg hunt (cameo)
And black yoshi's Easter wish (cameo)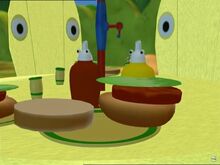 Ad blocker interference detected!
Wikia is a free-to-use site that makes money from advertising. We have a modified experience for viewers using ad blockers

Wikia is not accessible if you've made further modifications. Remove the custom ad blocker rule(s) and the page will load as expected.