Little Sister, Big Brother
Season 1, Episode 1a
Air date
November 6, 1998 (Friday)
Written by
Peter Sauder
Directed by
Mike Fallows
Episode guide
Previous
-
Next
Through Trick and Thin

Little Sister, Big Brother is the first episode of Rolie Polie Olie 's first season.
Zowie starts to act crazy. Olie starts to find out why.
Olie's getting ready for school. Zowie, as usual, is just happy to be with her big brother. But she's starting to get on his nerves.
Characters Present
Edit
Morning Time - Unknown singer
This is the first episode.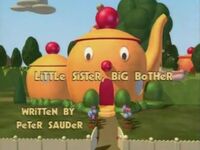 Ad blocker interference detected!
Wikia is a free-to-use site that makes money from advertising. We have a modified experience for viewers using ad blockers

Wikia is not accessible if you've made further modifications. Remove the custom ad blocker rule(s) and the page will load as expected.