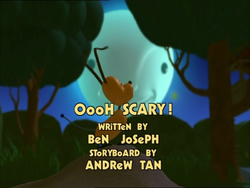 Olie and Billy feel that it is their duty as the big kids to spook out the little kids on Spookie Ookie day. They've gone to a lot of trouble to do just that. Their Spookie Ookie house is the scariest. Scary noises, an icky room, skeleton bots, the works! But Spot seems to un-spookie everything. Enter Spookie Ookie. He seems to be doing the trick, until Spot trips him up. The disappointed bots return to the house. It's then everything gets real spooky. They're attacked by a Pumpkin Head! And who's behind this spookiness? Why, Zowie and Binky, of course.
Ad blocker interference detected!
Wikia is a free-to-use site that makes money from advertising. We have a modified experience for viewers using ad blockers

Wikia is not accessible if you've made further modifications. Remove the custom ad blocker rule(s) and the page will load as expected.