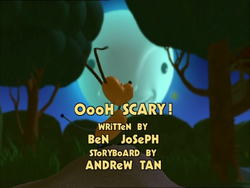 Oooh Scary! is the 2nd part of a 3-part Halloween special from the second season.
Olie and Billy make a scare zone for Binky and Zowie.
Characters present
Edit
- Polina Polie (Olie's Mom)
- Percy Polie (Olie's Dad)
- Spot
- Pappy
Costumes
Edit
Is a table where the cast have costumes on.
Character
Costume
Olie
Space boy (Again)
Billy
Frankenstein
Pappy
Spookie Ookie (Again)
Binky
Pirate
Zowie
8-eye ballerina princess (Again)
Percy, Spot and Polina do not have costumes.