Is the kitchen paper appear in episodes like,
cinimin toast (cameo),
oh olie olie it's a weird world (cameo),
top dog fish (cameo),
and rolie polie olie's mansion episode 1 (cameo).
He only appear in fanmade episodes like:
black yoshi's dog (cameo),
ren quits part 1 (clip in a half),
black yoshi's brocoli problem,
and more episodes left.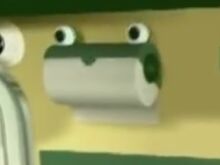 Ad blocker interference detected!
Wikia is a free-to-use site that makes money from advertising. We have a modified experience for viewers using ad blockers

Wikia is not accessible if you've made further modifications. Remove the custom ad blocker rule(s) and the page will load as expected.