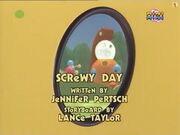 Information in preparation.
Olie, Pollie and Billy are bored teacher told go outside today.
- Polina Polie (Olie's Mom)
- Screwy
Screwy's bullying can make Olies temper boil over, but there is a better way to deal with his behavior. The next time Screwy makes fun of them, Olie and Billy refuse to play with him any more. Screwy decides to cooperate and play nice.
Ad blocker interference detected!
Wikia is a free-to-use site that makes money from advertising. We have a modified experience for viewers using ad blockers

Wikia is not accessible if you've made further modifications. Remove the custom ad blocker rule(s) and the page will load as expected.