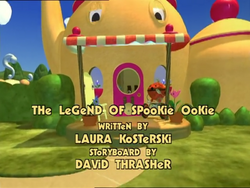 Information in preparation.
The Legend of Spookie Ookie is the eighth episode of the second season of the series Rolie Polie Olie and the first part of a 3-part Halloween special.
The premiere of this episode took place on Saturday 23 October, 1999.
Pappy tricks Zowie and Olie by appearing as the fabled Spookie Ookie.
It's Zowie's first Spookie Ookie day and the Polie family wants to make sure that everything is perfect. Everyone gets dressed in their spookiest costumes. Next comes the pumpkin growing and lighting. All wait for the appearance of Spookie Ookie. Mom and Dad know that its Pappy trying to frighten Zowie and Olie but is it? Pappy's just been discovered asleep in their bed!
Ad blocker interference detected!
Wikia is a free-to-use site that makes money from advertising. We have a modified experience for viewers using ad blockers

Wikia is not accessible if you've made further modifications. Remove the custom ad blocker rule(s) and the page will load as expected.